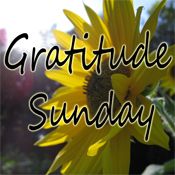 Today I'm joining Wooly Moss Roots for Gratitude Sunday. I hope to be able to do this every Sunday. Click the image to join in!
What I have felt grateful for this week:
- Opportunities that seem difficult but end up teaching me how to open my heart even more
- An abundance of fresh, local produce
- Meeting other people on a path to authenticity
- My amazing yoga teachers and the smiles they bring to my practice
- A message from a dear friend, reminding me of a place I miss
- Never ending kisses from a beautiful baby boy
- Sunshine and heat (I've missed high summer temperatures)
- Being able to support a friend as she strives for her goals, displaying courage, strength, and joy along the way
- A book that was gifted to me by someone I just met: A Path With Heart by Jack Kornfield. It's amazing how books will find their way into your life at the exact right moments.